Streaming in high frame rate with SVPcast
From SmoothVideo Project
SVPcast re-encodes virtually any video file into high frame rate, preserving all audio and subtitle tracks contained in the source video.
Installation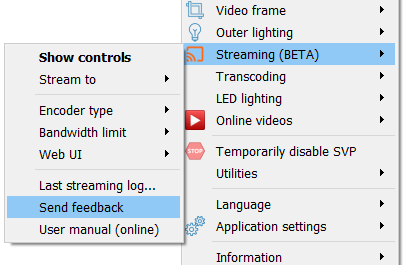 To add SVPcast, select it during the installation of SVP, or install it using the Maintain SVP 4 application (see the Additional Components section). In SVP 4 Mac, it is necessary to mark the Main menu option Application settings → Additional options → Extensions → svpcast.
After that, the Streaming sub-menu is displayed in the SVP Main menu.
You should pre-install mpv and ffmpeg on computers running macOS or Linux.
SVPcast Usage
Under construction!

Web UI