Streaming in high frame rate with SVPcast
From SmoothVideo Project
SVPcast converts a video into high frame rate and then streams it via HLS (HTTP Live Streaming) protocol. It can also control some TV boxes in order to pass them a HLS stream URL and start playback automatically, including:
Google Chromecast (note that Chromecast 1st and 2nd Gen. can only play 720p/60 fps. See Supported Media for Google Cast)
Google Cast-enabled TVs and TV boxes
Apple TV via AirPlay protocol
Also you can manually open a HLS stream URL in your favorite Android or iOS video player (a good example is MX Player) and enjoy 60 fps video right on your mobile.
Installation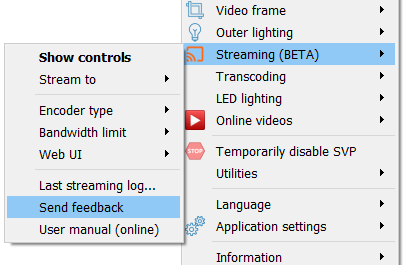 To add SVPcast, select it during the installation of SVP, or install it using the Maintain SVP 4 application (see the Additional Components section). In SVP 4 Mac, it is necessary to mark the Main menu option Application settings → Additional options → Extensions → svpcast.
After that, the Streaming sub-menu is displayed in the SVP Main menu.
You should pre-install mpv with Vapoursynth support on computers running macOS or Linux.
SVPcast Usage
Under construction!

Web UI
Mobile-optimized Web UI is available on port 9900 by default. You can change the port number in SVP's All settings: see cast.server.port value.