License and Activation of SVP
Jump to navigation
Jump to search
To activate SVP 4 Pro or SVP 4 Mac, you should purchase a license key on the SVP website. After the license has been paid for, you will receive an email with a license key and a link which can be used to download the setup file. License key is a unique sequence of Latin letters and digits in the ХХХХХ-ХХХХХ-ХХХХХ-ХХХХХ-ХХХХХ format.
You can purchase a license key for using SVP on multiple computers simultaneously. If necessary, you can increase the number of computers on which simultaneous use of SVP is allowed. To activate SVP, the first time you run SVP 4 Pro or SVP 4 Mac, enter the email address used to purchase the license and the license key.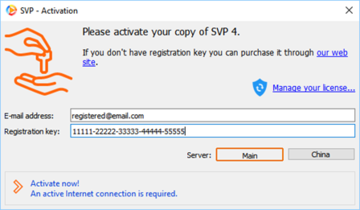 If an activation error occurs, make sure that:
Your connection to the Internet is active, the Internet is available and the website "https://www.svp-team.com" opens in a web browser.
The email address and the license key are copied exactly from the confirmation email; (when selecting a text segment, pay attention to any unnecessary signs or spaces at the beginning and at the end of the segment).
Your limit for the number of computers allowed to use SVP simultaneously is not exceeded. Otherwise, click Manage your license to open the License Manager for removing the out-of-date activations.
Viewing and Managing the License
License manager is a web service for managing your SVP 4 Pro and SVP 4 Mac licenses. You can find the link to it in the email received after payment.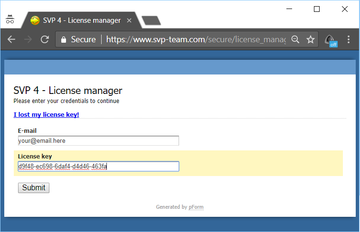 To access the License Manager, you must log in using your email address and license key.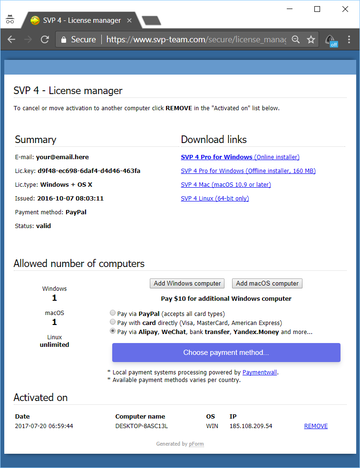 You can perform the following actions:
View information about the license: type (platform), date of purchase, method of payment. If the license was declared invalid, the reason for it is indicated (for example, an open dispute in the PayPal system).
Download setup programs for specific versions of SVP 4 Pro and SVP 4 Mac, including the "offline" versions.
View the maximum number of computers on which simultaneous use of SVP is allowed, separately for Windows and macOS.
Extend the license to cover additional computers.
View the list of computers on which SVP is currently activated.
Delete activations in case you need to transfer the installation of SVP to another computer. Also, after a major update of the operating system, you may need to activate SVP again. For this, select an out-of-date activation in the list and click REMOVE.