RIFE AI interpolation
Jump to navigation
Jump to search
Please be aware that RIFE support is currently at BETA stage.
RIFE is a Real-time Intermediate Flow Estimation algorithm based on a neural network named IFNet, that can directly estimate the intermediate flows from images.
Credits:
Pros:
very high quality of the intermediate frames
runs completely on GPU
Cons:
very slow (comparing to SVP's interpolation method), do not expect it to run in real time unless you have a high-end video card and want to interpolate low-resolution video (up to 720p).
only frame rate doubling is supported
Installation
SVP 4.5.210 is required
Install an additional package via SVP menu -> Utilities -> Add. programs and features, called [VPS_64] FIDE AI interpolation engine, restart SVP
You'll notice a new video profile called RIFE AI interpolation added.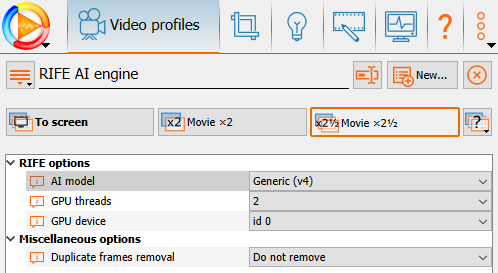 Usage
browse for a video file
choose a RIFE video profile
start transcoding!
Alternatively if you own a high-end video card you may try it in a real-time playback:
start playback in mpv (preferably) or VLC, DirectShow players may also work via Vapoursynth Filter (VPSF)
 !! IT WON'T WORK VIA AVISYNTH !!
manually switch to the RIFE video profile (it will be in the Other profiles sub-menu)
be patient ;)
RIFE on CUDA
CUDA implementation is much faster (like 2-3 times faster) than Vulkan, however it depends on really huge Python library which can't be bundled with SVP. Moreover it only works with transcoding and doesn't seems work in a real-time mpv/VPSF.
If you want to give it a try please follow these instructions (warning: you have to be an advanced user :D).
Credits: https://github.com/HolyWu/vs-rife