SVP:MPC-HC
Jump to navigation
Jump to search
Setting up MPC-HC

a.k.a. Media Player Classic - Home Cinema
version used: 1.9.14 (02 July 2021)
SVP can work with MPC-HC via two methods:
AviSynth Filter ("AVSF"): modern and fast, supports 10-bit and HDR, doesn't hang on seeks.
ffdshow raw video filter: legacy, use it only if you have issues with AVSF.
Basic settings
Open View -> Options main menu item
In Internal Filters section

Click on Internal LAV filter settings -> Video decoder and choose DXVA2 (copy-back) mode
Open External Filters section

Click Add Filter... then select AviSynth Filter in the list and press OK
Select AviSynth Filter and set Prefer mode
Double-click the "AviSynth Filter" line, ensure Enable remote control is selected.
Click OK and close Options window
Choose the right video renderer:

Open Playback -> Output section and set Output -> DirectSHow Video to:
madVR: in all cases except very low-end video card (such as old Intel's integrated GPUs)
Enhanced Video Renderer (custom presenter): for maximum performance and compatibility, but you'll loose 10-bit and HDR support
For the ffdshow just replace "Avisynth Filter" with ffdshow raw video filter in the above steps.
How to check
List of filters in use should be like this: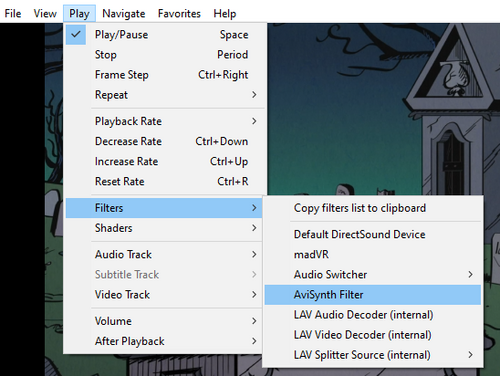 Useful information about current renderer stats can be seen with Ctrl+J hot key.
Additional comments
True HDR or high quality tone mapping: AviSynth Filter + madVR
Compatibility HDR tone mapping: ffdhsow + any video renderer + SVP's "Try to recover HDR colors"