SVP:MPC-HC
From SmoothVideo Project

Setting up MPC-HC
a.k.a. Media Player Classic - Home Cinema
version used: 1.7.5 (1 May 2014)

Requires: ffdshow should be installed in advance.

See also:
Basic settings
Open View -> Options main menu item
In Internal Filters section

Click on Internal LAV filter settings -> Video decoder and choose DXVA2 (copy-back) mode
Open External Filters section

Click Add Filter... then select ffdshow raw video filter in the list and press OK
Select ffdshow raw video filter and set Prefer mode then click OK
How to check
List of filters in use should be like this: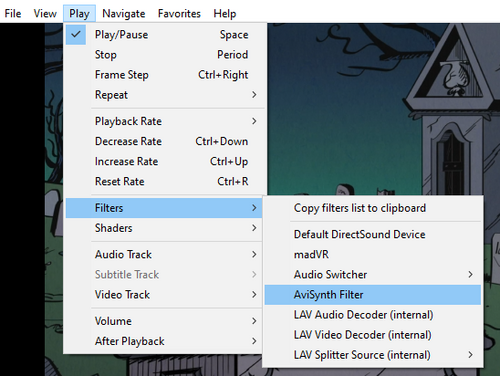 Useful information about current renderer stats can be seen with Ctrl+J hot key.
Additional comments
Video renderer can be set from Options -> Playback -> Output section.