SVP:Stereoscopic Player
Jump to navigation
Jump to search

Setting up Stereoscopic Player
version used: 2.1.4 (23 April 2014)

Requires: ffdshow, LAV filters.

For a BD3D playback use either MPC-BE or Daum PotPlayer instead!
Basic settings
Open File -> Settings... from the main menu
In Decoder section choose Preferred Filters tab

Select Other -> Video Processor and press Add... then select ffdshow raw video filter and press OK

To use LAV hardware decoder for stereo pairs:

Install LAV Filters
Select Video Decoder -> MPEG-4 AVC/H.264 Video Decoder and press Add... then select LAV Video Decoder and press OK
How to check
List of filters in use is available in Video Properties window (can be opened with Ctrl+V hot key) on Filters tab.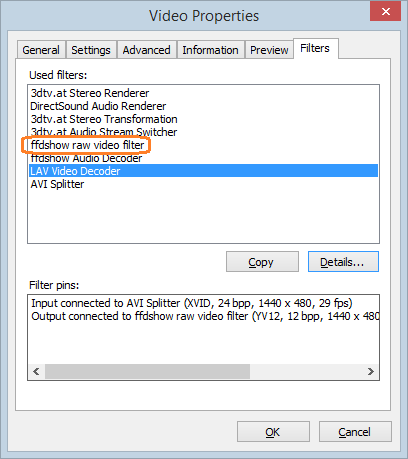 Additional comments
Stereoscopic Player isn't compatible with SVP's additional features like frame crop and black borders lighting and there's nothing we (SVP Team) can do about it, consider posting a request to the Stereoscopic developers.