SVP:KMPlayer
Jump to navigation
Jump to search

Setting up The KMPlayer
version used: 3.8.0.123 (22 April 2014)

Requires: ffdshow and LAV Filters should be installed in advance.

We highly recommend to use Daum PotPlayer instead.

See also:
Basic settings
Click right mouse button -> Options -> Preferences... and open Filter Control -> Custom Filter Manager section

Click Add registered filter... and select ffdshow raw video filter in the list then press OK
Choose ffdshow raw video filter and set Priority Settings: Use forcibly option
It's recommended to replace internal KMP decoders with LAV Filters:

Install LAV Filters
Open Filter Control -> Decoder Usage -> Internal Video Decoder section and click on Select None
Go to External Video Decoder section

Click External Decoder Search and in the window opened press Add System Codec then select LAV Video Decoder and press OK twice
Choose LAV Video Decoder from all the video formats
Click C button near any video format and in the LAV properties window choose DXVA2 (copy-back) mode
For SVP's additional features (frame crop and black borders lighting) to work correctly it can be necessary to:

Open Video Processing section and set Condition: Disable
 ???
How to check
List of filters in use available from the Filters sub menu and it should be like this: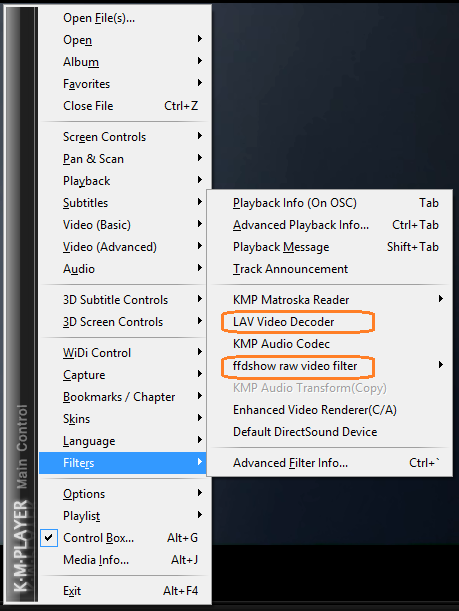 Additional comments
Video renderer can be set from Options -> Preferences -> Video Processing section on the Renderer tab.
Using of SVP's additional features in The KMPlayer requires some special settings and aspect ratio value should be adjusted manually.